I feel like the last three days have had enough activities to fill a week!! It was definitely a busy weekend, but a really FUN weekend and there's a lot going on news-wise so let's get started.
Friday night Spencer, Husband,
Scotty
,
Beaux
, Brendan and I went to Scotty's sister's Halloween party in Staten Island. It was a really cute house party, and
Beaux
almost got in a fight with a girl. Which is hilarious. So my night was complete after that happened. What was a bit jarring for me was finding out that half of the people at the party were 18. 18!!!! I went dressed as the Human Torch in an attempt to make a funny little joke...and I think everyone got it. The costume ended up looking a little more tragic than I had planned, but I worked out okay.
My hair is red because it's supposed to be on fire. Get it? It's funny, right? RIGHT?! Husband got some really good pictures so hopefully I'll be able to post those soon.
It really surprised me how much fun the Staten Island Ferry was. It was just really easy and convenient and it was like one big adventure. I crashed on Scotty's couch at 4am and am still finding red spots in my hair. All in all, a really great night.
Saturday morning I had to book it back uptown to prepare for the arrival of Laurie and Mike! Long story short--there is a family that my family has vacationed with practically every summer of my entire life. Seriously, I don't remember a time when they just weren't in my life. Laurie is four years younger than me and we've always been buds. Her fiance, Mike, surprised her with a trip to New York and I was more than happy to accompany them around the city. So I got uptown, met up with them, and we had a blast. Ate at some great restaurants, did some really fun touristy stuff, and then finished the night off with Arriba Arriba margaritas and SNL. A really FULL, but fun day. Pictures will be following, as soon as Laurie gets them uploaded. ;)
Speaking of SNL--Amy Pholer had her baby, ya'll!!!
There are some celebrities that you just know will be good parents, and Amy and Will are two of those. Plus, they named their son Archie. Archie
Arnett
!! How ADORABLE is that?!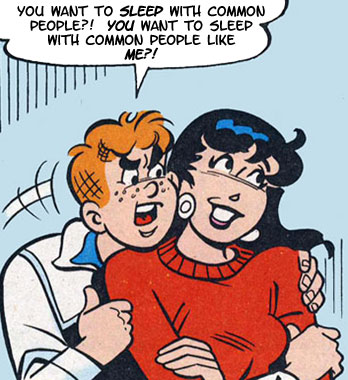 Yesterday I got some breakfast with Laurie and Mike, walked them to Port Authority so they could catch the bus to the Jets game, and then collapsed on the couch for a few hours. I tried to catch up on some TV, but that didn't really happen. Picked Laurie and Mike up, they headed to Chinatown to get their bus, and I went to go help Spencer move. He's moving from the Upper West Side to Hell's Kitchen so it'll be fun to have him closer. The moving went much smoother than I expected and my quads only hurt a little bit today from the massive amounts of stairs we walked.
Unexpectedly met up with some friends for Sunday night beers and one of the guys there had just been broken up with by his boyfriend. Well this poor kid had really been put through it apparently and it was so tragic, it was funny. He was talking about how he wasn't gay before meeting this kid, and about he "did things he never thought he would do" like bake a cake for the guys' birthday, and make the guy collages and a quilt. As each beer was consumed, he got funnier and funnier--tragically speaking. I know it's not polite to laugh and someone else's misfortune but you had to be there--HILARIOUS.
I was chatting with an acquaintance from college on Facebook chat yesterday. Her name is Becky, and she was a couple of years younger than me so we weren't super close but we obviously knew each other and did a number of shows together. I actually think that she was the stage manager for my Senior Project....anyway....she IM's me and is all "I think I saw you on the street on Friday. Were you wearing a classy trenchcoat?" And I was indeed wearing a "classy" trenchcoat on Friday. Long story short, she lives in New York, which I was unaware of. She also lives on my street. She also lives NEXT DOOR TO ME. How crazy is that?! It just shows you how small the world truly is.
Should be a fun week. The Michael Phelps super diet started in full this morning. I had been sort of following a diet plan in the past two weeks but because I have to be in a Speedo in public on Friday...well...it's time to really crunch down. No pun intended.
I still don't know what I'll be doing for Halloween night. The majority of my close friends are heading out of town and my other ones hate Halloween. How can you hate Halloween
btw
? Candy? Dressing up? Loves it. I keep having this image of me just sitting on the couch in my
Speedo
drinking a bottle of wine. Which is kind of a funny image when you think about it. Maybe I'll invite tragic quilt boy over to knit with me!!