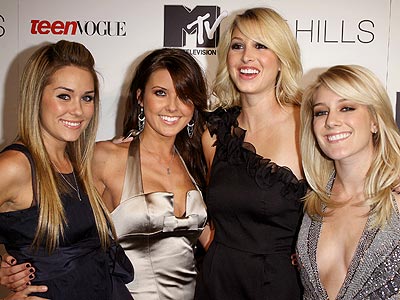 You know, it really amazes me how fantastic "The Hills" is sometimes. And by 'fantastic' I mean completely fake. Last night Lauren lost another friend when
Audrina
accused her of sleeping with Justin Bobby.
YEAUGH. Yes, I'm aware I said he looks cute when he has short hair. But look at him here--it's like a rat ducked in chicken grease. Anyway, Lauren and Justin both denied it, but Audrina was convinced that something happened. This led to many pretty faces by the entire cast.
We also got to spend some quality time with
Audrina's
sister, Casey, who really is the prettiest flower I ever done saw.
Dayum. She's one hot piece of meat.
Last night there was also an abundance of blow job face. Probably apropos considering the topic of discussion throughout the episode.
I also want to congratulate
Speidi
for their recent wedding.
I wish you many years.....nay, weeks.....of happiness!