Walking to the movies on Saturday I ran into
hottie
mchott
Jon
Hamm
from "Mad Men"
and Jennifer
Westfeldt
writer and star of one of my most favorite movies ever--"Kissing Jessica Stein."
I swear to God, my heart stopped when I saw them. STOPPED. Worst part about it thought was that the friend I was meeting had NO CLUE who either of them were so my excitement was all for naught.
Last night on the way to meet Jamie Jamie Moore, I saw Connor Paolo, who plays Eric on "Gossip Girl."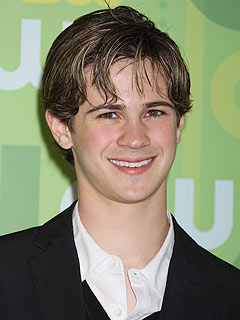 He had a lot of bags and seemed a bit confused...kind of like how I'm confused why we're supposed to care about his character on GG....
I have to buy new shoes today on my lunch break. The holes in the bottom of them have gotten to biblical levels. It's a necessity, but an expense I REALLY don't want to make.
Also, can I pull off a bow tie?
I'm going to the Out 100 party and want to change it up a little bit. Also, if I can pull off a bow tie, can someone come help me tie it?
Yesterday I went to the Veterans Day parade with Brian and Kelly. What's English for "LAMEST. PARADE. EVER." The three highlights were:
Flags, flags, and more flags.
Kilts.
And the NYPD Marching Band. When my grandpa was a police officer, he played clarinet in the Milwaukee marching band. Apparently my dad also filled in playing trumpet when he was in middle school and high school. I thought about my G-pa lots during the parade and while the parade itself was L to the AME, I was quite touched when I saw the NYPD Marching Band.
Also in the parade? The old lady who was in this picture
Homegirl
was riding in a float and while it may be a bit lame/corny, it was actually pretty cool to see such an iconic
piece
of history pass by on a flatbed truck. That was my first though. My second? That lady is still ALIVE?!?!
Homegirl
done be OLD!!