This morning I got ready for my 9 to 5 job by listening to....Dolly
Parton's
song "9 to 5" from the movie...you guess it--"9 to 5." I feel like such a cliche. I've actually never seen this movie--cue everyone saying "you've NEVER seen 9 to 5?!?!" Nope.
Nevah
. I've also never seen "Clue," "Big Business," "Sixteen Candles," and I only sat through half of "The Breakfast Club." I've never seen the original "Star Wars" movies, "Sleeping Beauty," or "E.T." I have, however, seen "Sister Act 2" ninety times. If you think there's something wrong with me, then you've never seen Lauryn Hill break it down in "Joyful, Joyful."
(Please note the person in the background doing sign
language
. Hilarious. One of my favorite parts of the song).
I've been thinking about constants lately. Something that is in your life everyday and then, for whatever reason, just isn't anymore. Last night on "Grey's Anatomy" (
minor
spoiler if you haven't watched yet) there was an old couple who were so so cute. The wife was in the hospital for something and having a surgery, and as they said goodbye they said "I'll see you when you get back." Well of course, if you know "GA," you know that the wife isn't going to make it out alive and all of our heartstrings are going to be pulled. Well, of course she
flat lined
and because she had signed a
DNR
clause they couldn't bring her back. The husband started to give her chest compressions to keep her heart beating and he kept doing it until, at some point, he was the only thing keeping her alive. Cut to me bawling. Here this man is having the same person in his life for how ever many years, and he's the only thing keeping his constant alive. I was a hot mess on the couch with my disgusting bottle of white wine and Mike &
Ikes
. The show cut to commercial and all of a sudden I heard:
"COMING UP TONIGHT, ON JIMMY KIMMEL LIVE---SAMUEL L. JACKSON!!!!!"
Well JEEZ. Talk about taking you out of an emotional moment! I was so thrown off by this that I had to laugh through the tears and I was reminded of another time this happened.
I've been known to cry while watching Oprah. Don't scoff, you know you've done it too. Anyway, I was watching it one day and the cast of "Ladder 49" (including one John TraVOLTA!!!!) was on and talking with real life fire fighter heroes. Someone was telling this heart wrenching story and I seriously was sobbing. SOBBING. All of a sudden the camera cuts to John and he's doing the most hilarious, absurd, ugliest ugly cry I've ever seen.
I distinctly remember calling Heidi and laughing with her about it through the tears. Oh Travolta. You so crazy. I can't wait to see your People cover.
Seriously. I'm waiting. Anyway, the moral of the story is---if you know that your audience is crying, don't cut to Travolta! And if you know they're going to be crying, don't go to a crazy loud commercial afterwards! Give us a second to decompress. Show us that commercial with all the hurt animals in the shelter while in the background they're playing Sarah McGlaughlin's "Angel!" Sometimes we need to keep the cry going and slowly fade out on our own. Stopping a crier in full cry mode is almost as bad as waking a sleepwalker.
In "OMG, that makes me so happy" casting news today. I just found out that Joanna Cassidy who played Rose in "Don't Tell Mom the Babysitters Dead" is going to be on "Desperate Housewives!"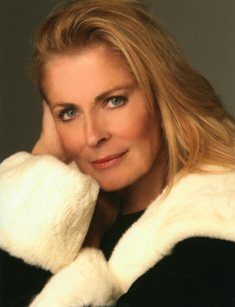 She's going to play the mother of Andrew Van De Camp's new boyfriend and I'm SO happy to see her again! Rose always held such a special part of my heart and I loved the scene when she knocks the M & M's to the floor and then starts eating them all. Scotty did an impression of it a few weeks ago and I could NOT stop laughing.
No big weekend plans. Nothing going on tonight and then tomorrow I'll be seeing my girls for Mo's party and then head to Page Six's party. Looking forward to seeing some movies, sleeping in, and eating some Chipotle! Mmm......Chipotle......