With only a few hours left of work before my Christmas Holiday, I find myself reflecting on....screw that--my bitch ass is ANTSY!! Seriously, I feel like a child on Christmas morning with presents in front of me and I can't open them. I fly out to Oh-
hee
-O this afternoon and I done be excited! I can't wait to pour a glass of wine, cuddle up in front of the fire with my dog, and RELAX.
Due to the fact that Christmas Eve is tomorrow, I would like to present a few favorites of mine from past Christmases and a few things that I would like.

1. National Lampoon's Christmas Vacation and A Christmas Story
You can't have Christmas without these two movies. Ever since I was a kid,
Christmas Vacation
has been a staple in our family. You'd be hard pressed to find a funnier Christmas movie. Between Aunt Bethany, the squirrel, Uncle Eddie, the cat exploding, the early 90's fashions, the horrible turkey--it has every hilarious holiday calamity that has happened to pretty much
everyone's
family at one point or another. I think my family likes it so much because we're almost as tragic as the
Griswolds
are.
Another classic that we all love is
A Christmas Story
. I remember thinking how
scandalous
it was when I was a kid. The leg lamp! The swearing! Scandal! Also, was anyone else as terrified of the red head kid as I was?
Frightening.
2. All I Want For Christmas Is You
Arguably the best Christmas song EVER, this song holds a very special in my heart. It is my mom's favorite Christmas song and whenever it plays on the annual Christmas
cd
, she drops whatever she's doing and does the most adorable (okay, awkward and
rhythm
-less) dance in the living room. Picture Elaine, from
Seinfeld's
dance.
BarbBahr
knows how to get down! Makes me think of her every time I hear the song.
3. Peppermint Kandy Kids
Speaking of dancing....
...Frosty the Snowman!!! I don't remember what year I got this album, but when my brother and I were little kids we couldn't wait for Christmas if only to play this record over and over and over again. It has the most
ridonkulous
songs on there but we didn't care. We would dance all over the living room but it was more like running in circles. My parents' record player is broken so I haven't heard the album in a few years but when I do again, you bet your bottom dollar I'll be "dancing" all around the living room just like I was 8 years old again!
4. Bow Ties
If you're looking for gifts to give me, I want bow ties. I've decided that I'm going to bring the bow tie back. "Back where?" said Maria Conchita Alonzo. "Just back," I replied. "As I'm bringing Sexy Back, I will also bring back the bow tie." It's classic, it's a little nerdy, it's '09.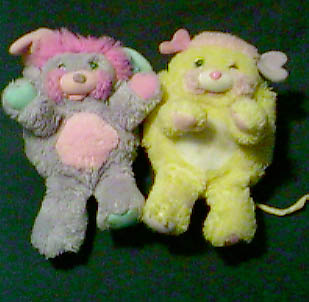 Who
remembers
Popples
?! When I was a kid I had an Orange one....but don't remember his (or her) name. I would carry that thing with me everywhere! I wonder where he (or she) went. While completely
irrelevant
to Christmas, my
popple
is one of my favorite memories of the past.
6. The Night Before Christmas


Every Christmas Eve, we can't go to bed until we read this book. Each year we would take turns reading it but of course because I liked being theatrical, I would also want to read it. Some years I would be funny, the year I was learning dialects in school I read it in a British accent, it always varied. When Pat and Melissa learned to read, I had to share, which was a bummer. My favorite memory of this book was a year we were living in Michigan and my grandparents were visiting for the holidays. My grandfather is one of the greatest people I know and I remember him reading this book vividly. He was so funny (in the way only grandpa's can be) and we were all on the edge of our seats to see what joke he would make next while reading it. I will happily give up my turn any year to have Grandpa read the book.
7. Abs.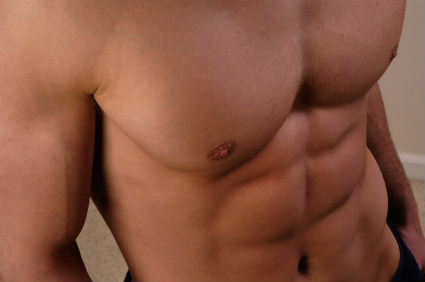 I would like abs this year. It almost happened during Phelps time, but then I started eating again. As '09 is the year of the bow tie, it will also be the year of the ab--mark my words.
8. Eggnog
Really bad for you. Kind of expensive. Gross when you think about what it is. But DELICIOUS! The only thing I could be describing is EGG
NOG
! Okay...I could really be describing many, many things. But egg
nog
also works in that category. When I was little my mom would only buy one carton the entire Christmas season, saying it was too expensive. And she done be right! How in the world can someone charge five bucks for that shit? Crazy. Note to all my fat girls out there---vanilla bean ice cream. Chocolate sauce. Egg
Nog
on top? Delicious.
When I was a kid, I loved
Thundercats
.
LURVED
! And my favorite was
Cheetara
. I played with her all the time. Even after
homegirl's
head fell off, I still played with her. Remember how I said Miss Piggy turned me into a big 'mo?
Cheetara
may also have contributed to that. Still nothing to do with Christmas, but a fond memory of mine all the same.
10. Brit Brit
..Britney is going on tour!! I will NOT miss this, but have yet to get tickets. So for Christmas I'd like Britney tickets. Thanks Santa!!
11. O Christmas Tree...
Something I love about my family is that every year we would go to a Christmas tree farm, cut down our own tree, then bring it home and decorate it. Something my parents instilled in me is a sense of tradition. I get a little annoying with it though, because I want to help decorate the tree and have Santa come even as a 20 hmmrmr.a.dfal year old. This is the first year that we aren't going to open presents on Christmas Eve and have Santa come Christmas morning and I'm having a small, but manageable, panic attack about it.
12. Advent Calendar


One of the biggest fights in the Bahr household occurred over who would open the Advent calendar every day. The chocolate was gross (and not really appropriate at 7:30 am) but I loved seeing what was under that little day! Advent calendars really helped me get in the Christmas mood as a kid.
13. Rock Band
I really want Rock Band for Christmas. But I'll need an XBox first. Thanks, Santa!
14. Christmas Candy

Every year my mom would make Christmas candy for all of our teachers and neighbors and I loved it!! What is funny, is that the candy didn't really have any flavor and was more of a hassle than anything, but she stuck with it. Moms are really great sometimes when you think about all of the things that they do to make the holiday season extra special for kids. My mom, especially, has gone above and beyond to make every year special. Even the year the gave me pencils.
15. Robert

Pattinson's

haircut
Pre
haircut? Gross. Post haircut? Now this is something I can work with!!!! I'd like this haircut and this man for Christmas. Thanks, Santa!
16. Snowboard
When I was 14 I got a plastic snowboard for Christmas. I cried. My parents tried and tried for me to be athletic when all I wanted was dance lessons. "When will they learn?" I thought. Bless their hearts for trying, it just wasn't meant to be. Until I became a 'mo and discovered the pressure that comes with it to be thin. So really with this scenario, we both win.
Merry Christmas everyone, and happy holidays (for my Jewish and
Kwanzo
peeps). I hope that Santa is good to you and that the travels are safe!