Ugh. Tuesday. The bane of my existence. Won't you just leave me alone Tuesday? Go somewhere you're wanted. Had a THRILLING night last night---did laundry and finished up Christmas cd's. The good news is, however, that I'm going to the post office in a an hour to mail them! I'm scared about the postage and the long lines, but hopefully both will be managable.
I had a very vivid dream last night in which I became good friends with SJP.
She had a cute little pink number on and had James Wilke with her. I remember being insistant with her asking her to take a picture together on my iPhone so I could upload it to Facebook. Not only has Facebook taken over my life in the daytime, now it has moved on to my dreams. Perfect.
How amazing was Gossip Girl last night?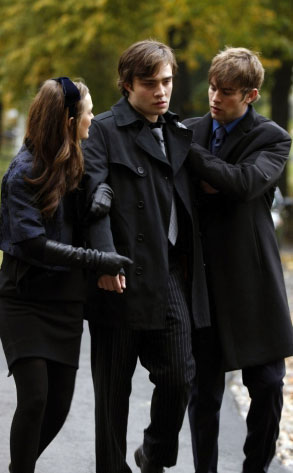 Obviously golf claps go out to Ed Westwick for his awesome scenes as Chuck, but I felt like the real star of the show last night was Leighton Meester's Blair. She gave us depth, complexity, warmth, and angst--I think Blair is by far one of the best characters on television.
Mama B gave me a nativity scene for Christmas last year and while I don't really have a place in my apt condusive for small figureines, last night I set it up. It's all about making it work. Here is the scene as it was meant to be.

However, I have a hard time resisting the urge to play with small toys, so I had to have a little fun.
Here are the animals of the manger, looking awfully hungry and getting dangerously close to the Baby Jesus.
The three "wise men," drinking in the corner and gossiping about all the rest of the shepards.
Mary was off in the corner being inappropriate, as usual, with some red headed guy.
And the black man was hanging out by himself in the corner. Because we all know that there were no black men at the birth of the Baby Hesus so I don't know WHO they be tryin' to fool.
I'm downing coffee like crack but nothing seems to be working as I just can't WAKE UP!!! Hope your Tuesday turns out better than mine has so far!