Well I've got some news about my housing situation and it's still hard for me to swallow but I'm
stickin
' to it! Here's the deal: I will be sending my cats to live with
BFF
Kristen in Utah, putting my stuff in storage, and going to live rent-free in Ant
Rapp's
place for the next little bit. AH! The housing situation with Billy is kind of taking its time to come to fruition, so instead of finding some studio I hate or can't afford, I thought it best to take this course of action. I'm definitely sad to part with my kittens, but I've been thinking about it for quite some time and it just needs to happen. Like Spencer says, "Just rip off the band aid." They're going to live with her and her new husband and I know that they'll be happier there than they are in New York in a tiny apartment. She's had cats all her life and knows mine well so I'm a little at peace with knowing they'll be going to a loving home and won't be separated. Hopefully with the way this goes, I'll be able to save a little money until a) the Billy apt. thing works out or b) I can find a
roomie
or place in
HK
because truthfully, that's where my heart is. I love that neighborhood and am not ready to leave it. So like a band aid...come March 1....
Okay. Enough of that. I've got a quick little post today--still under the weather and swamped at work. Before I get back to that though, a mini Thursday
edition
of...
OH HELL TO THE NO

Rachel

Bilson

and Hayden Christensen are Engaged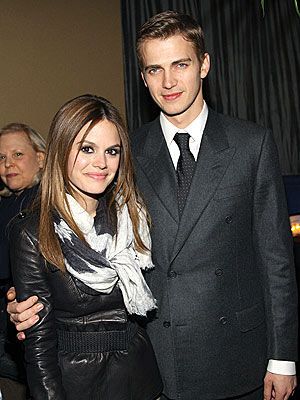 Clearly he's a homosexual, so what kind of a ruse is this? Also, she belongs with Adam Brody. Relationship Fail. Summer and Seth 2gether 4Evah!!
Max from THE MAX Doing Magic for Britney Spears' Tour

H2TN Rating:

3
This is more of a good "hell to the no." I know you all know Max. He was the creepy magician that always did magic when all the Saved By the Bell kids wanted a freakin' hamburger. Seeing as Brit Brit's tour is all about the "circus" a magician is only appropriate. I just hope that Max still has that amazing afro. I also hope I get to see this tour. Hint Hint P6. thanks to Page Six for the image


Pamela Anderson Should Not Be Wearing That

H2TN Rating:

8
Dear Pamela Anderson. You are old. Please don't wear this in public. No one needs to see that, and by no one, I mean NO ONE. And don't even get me started on your face,
tranny
.
Jon

Hamm

look-alike next to me in Spin Class
Today in Spin Class I had, on the bike next to me, a Jon
Hamm
look-alike. Don Draper himself. He was tan, he was hot, his Jon
Hamm
hair kept getting in his face, he was all kinds of sweaty, and he kept moaning when the hills got tough. To make matters worse, there was a mirror in front of us and I kept finding myself staring at him. Not jumping his bones was one of the hardest things I've done. That's what she said.

American Idol's Danny

Gokey's

exploitation of his dead wife
H2TN Rating
: Off the charts


Photo credit: Rickey.org
Hey!! Did you guys hear about
Danney
Gokey
? Oh man, he's this awesome guy who's got a really cool sounding voice and OH MAN his wife died four weeks into their marriage oh man that really sucks. Fail. I totally get that he has a compelling story and I really do feel bad for his wife and for him but seriously people? EVERY. CHANCE. HE GETS. We hear about this dead wife. Last night during the results show was the worst. While singing "Hero" (dedicated to his dead wife) a member of his family held up a picture of the two of them together. When will he be voted off so the exploitation can end? Let her rest in peace already!
And that was your Thursday edition of "Oh Hell to the No."
And now please take a second to the hottest member of MTV News ever, Gideon
Yago
.
I know all you bitches remember him!