I'm back kiddies!! But holey moley have I been busy today! I guess it's my own fault for taking three days off of work (how DARE I?) but being back in the office today has been a tad overwhelming. I feel like I've got a grasp on everything now though and hopefully by week's end things will be back to normal (or whatever passes for normal nowadays).
I can't go any further without making a special announcement. 24 years ago today, a very special person was born. Though he has been a bit of a bitch ass lately, he is the funniest
most genuine
and sweetest person I know.
I mean just look at that picture. AWWW!!
So Happy 24th Birthday to my brother, Patrick!!!

I am very lucky to have him as my brother. Most days. I am also lucky he would let me be all of the girl X-Men when we pretend fought growing up (Rogue and Psylocke were my favorites to pretend to be). I am also lucky (as is the rest of the world) that he rethought his decision to let the Wedding party wear what they want. Matching Tuxes it is!! Smart choice brother. And hey, Happy Birthday!! I hope you enjoy your day and seeing "Back to the Future" in the theater tomorrow. Yeah...that's the kind of awesome celebrations those people in Colorado have.
So yeah bitches, I was in Wisconsin. It was a great trip and while I didn't catch up on my sleep as much as I had hoped (surprising considering the two naps I took each day) it was a successful trip all around. With no family blowups!! Wahoo!! I arrived early Friday and after my parents picked me up we drove around for a bit looking at all of my parents' old haunts. We saw where my dad used to live (for the 8 millionth time), where my parents met (for the 40th time) and the spot where my dad got hit by a car while riding his bike (no joke, I've seen this spot every time I've been to Wisconsin. And I've been to Wisconsin a LOT). My sister and I entertained ourselves by taking self-portraits in the back of the car.

Something that was new to us, however, was the hotel in which they had their reception.
My favorite was my mom saying to the doorman as we walked in "we had our wedding reception here a few years ago." By 'a few,' she means 30. We also had the...wonderful...pleaseure of seeing their wedding night love suite.
Who knows the cooties that couch is filled with.

Friday night after meeting up with Grandma and Grandpa, we went to a Wisconsin staple, THE FISH FRY!!! Also known as "Artery Clogger 2009." After learning that 8:30 is like, the latest time possible an 86 year old will eat dinner, we all pretended to be happy for a group shot.


Lol, look at the face on my grandma. This is before dinner came--you know homegirl is like "WHERE IS MY FOOD?!"
Saturday afternoon my Dad, Grandpa and I went GOLFING!!
After swinging and missing four times in a row my first time up to bat...I mean Tee...I started to do better. I even got some pretty awesome shots in by the end of the day!! We headed home where I was delighted to discover that...
...Happy Hour in Wisconsin starts at 2:30 pm!!! It's a lovely sight, really. We hung out for a bit on Saturday afternoon and at one point my grandpa pulled me aside, only to out me to myself.

Basically the conversation went something like this.

Grandpa: I just want you to know that we know you're gay.
Me: Uh......
Grandpa: And we don't care, we love you so much no matter what.
Me: Uh....
Grandpa: I even know some really nice gay guys.
Me: Uh.....
Grandpa: I just don't want there to be any secrets in this family. We know, we love you, that's all there is to it.
Sweet gesture, but if I have to have conversations like this in the future, the more secrets the better!!!
Saturday night was a ROCKIN' game of cards, one of which was entitled "Poop on Your Neighbor."
After G and G changing/forgetting the rules about fifty million times and me spilling my beer on the floor, it was time for Zac Efron on SNL, and then bed.
Easter Sunday we all went to church (I didn't burn! Wahoo!) and then came back to take some family pictures.
Pose.
Pose.
We were looking DIRECTLY into the sun, which made it very difficult to smile with my eyes, but I did what I could.
Monday night we all packed up and headed to Miller Stadium for the Milwaukee Brewers Baseball game!! For those of you who don't know, tailgating is HUGE in Wisconsin. The Packer and Brewers fans love to grab some Brats, grab some beers, and hang out before the game. The Bahrs have tailgated many times over the years, so of course we weren't going to pass up teh opportunity to do it again. The problem, however, was that it was 33 degrees and hailing outside. This fact made cooking brats a challenge.
I wanted to make sure that I helped where I could though.
So my bitch ass stayed in the CAR! Seriously, that is helping--it was COLD! While in the car, I did some posing with a hat because...well...what else is there to do in the car with a hat and a camera?
Why I'm holding the hat like so, I'm not quite sure. I was a few beers in at this point, I have no reasons for my actions. Melissa and my mom wanted to get in on that posing action.
Seriously, ya'll. COLD. We ate our dinner and drank our beers in the car and then headed in to the (temperature controlled!) game!
The game was a blast, and the seats were perfect. Of course more posing happened.
Upon visiting the gift shop I found the best way ever to enjoy the game. With a pink "HULK" hand and a Brewers' martini glass.
Really, is there any other way?
Well no, unless you count staring at Shortstop J.J. Hardy.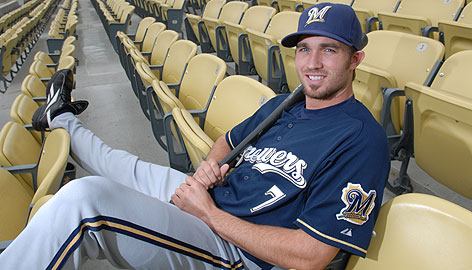 YUM-MY!!! I thought he was super delish until I found this picture of him.
Now I just think he's douchy. And delish. He's delouchy!!
During the seventh inning stretch, these giant beef like men came out and ran around the field.
I swear, I thought I was on acid. CREEPY!!!
The Brewers lost (damn) but it was a super, super fun game! I'm really glad I went to Wisconsin for Easter and the jet lag yesterday was totally worth the fun I had. Last night I went with Spenc, Scotty, More-O, Dom, and Page Six to see "17 Again." Super cute movie, Zefron did a really good job, and I think you'll enjoy it if you see it. Plus it has Leslie Mann in it who is PERFECTION in anything she does.
After the enjoyable weekend, I came back to this
at work. Maria Conchita Gonzalez was seriously on one this afternoon. Head to the gym for the second time today and then hanging out with the boys for Wednesday night TV. I fear my darling Matt Giraud is going on home on Idol, say it ain't so!!
Ya'll come back now,
ya hear?