Kate Gosselin hit the beach this weekend in an oh so sassy bikini and I have to admit I was a little taken aback.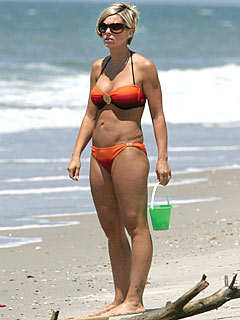 I know homegirl's young, but this bitch has had not 1, not 2, but 8 kids. It was documented on her show that she had a tummy tuck but it looks like we've had a little more tucking since then. Hm.....I wonder what else on Kate is fake?
I'm sorry Kate, I don't mean to take my anger out on you. I'm dieting and hungry and the hold music in my ear has a saxaphone that is going to down and I'm irritable. Someone feed me!