Post # 600!
Woot
Woot
. It would have been more fitting if it was post 500 because....
I saw "500 Days of Summer" yesterday!! After a wild couple of days, I decided to take it easy with Page Six at the apt. Because he has a bomb ass job, we watched the five episodes of "Nurse Jackie" that haven't aired,
ending
with the season finale. I've ranted and raved about this show before and let me tell you - the end of the season does not disappoint. What does disappoint, however, is that I haven't seen "True Blood" yet because my cable was on the fritz that night...but that's neither here nor there, back to 500 Days!
This movie wrecked me. But not in the way you might think. Sure, the movie itself was great and I really appreciated how it was a love story but not the classic love story that we're all so used to. It really was the realest story about love I've seen in quite some time and actually reminded me a lot of the relationship I had with Kelly back in the day. But no, the story was what it was. What wrecked the movie for me was
Tom. Oh Tom. Tom Tom Tom. While I found him to be adorable, Tom wrecked me because his was basically my perfect guy. Intellectually, emotionally, he was just it for me. Of course, now I'm going to spend the rest of my life searching for my 'Tom' which is gonna mess with my head and probably never come to fruition. And Lord help me if I ever meet Joseph Gordon-Levitt because I'll be ALL OVER that boy thinking he's Tom. Le sigh. Anyway, good movie, go see it, blah blah blah but always remember that Tom is MINE.

Remember last week we had a conversation about monsters? You know you remember, we talked about this guy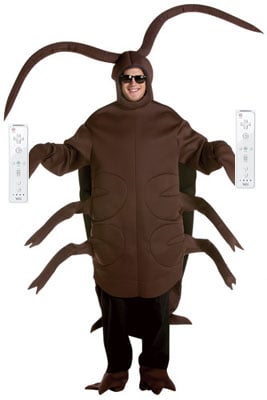 Anyway. After a repeat performance on Friday (during which Dom and More-O tried, unsuccessfully, to kill the motha trucka and basically just angered the thing) he reappeared last night during my 5th hour of "Six Feet Under." We faced off yet one more time and this time, mwa ha ha....I came out victorious!!! Of course, I couldn't do this alone. It'd like to thank




The Watchmen graphic novel for its help in my defeating the evil monster that tormented me in the night. Your movie may have sucked my friend, but after last night you'll always be a winner to me.

I've got dodgeball tonight, a b-day tomorrow night, and then Wednesday afternoon I hop on a train to Colorado for Pat's wedding. Not at all prepared, in any sense of the word, but that's what plane rides and alcohol are for!! Enjoy your Manic Monday everyone.