Last night, Whitney Houston had a listening party for her new albums and some artwork was released. All I have to say is....
...who dat bitch??!! I mean, she looks great and all, but that's not the Whitney that
I
know. I prefer my Whitney cracked out...
Super skinny...
Crazy religious...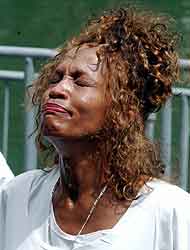 with a whole lot of "hell to the no" comin' out of her mouth.
I really have a very hard time dealing with a normal Whitney Houston. Unacceptable. Come on Whitney, I need some excitement in my life. I believe in you....
That's a pretty girl...


Page Six and I did some apartment searching yesterday and today and though we found a place we liked a lot, it was a little out of my price range so we decided to wait a month. Special thanks to Endre for showing us some places. Why can't the apartment fairy just put an apartment in my lap that is gorgeous and has lots of light and I can afford?! Wahhhh...

I found this quiz on Dlisted that takes your Twitter profile and determines how hetero you are. As you can see......


Yeah.....I'm not very hetero. What makes me laugh, however, is how they came to that conclusion. Notice - "Found Words: gym, new york, pride, gay, Janet Jackson." Well homo it is then!!


Last night was the annual New York Philharmonic concert in Central Park. After trying FOREVER to find them among the mass of people...
...find them I did. We had a great time eating, drinking, and chatting. I think someone was playing some music in the background, but I didn't really notice. Afterwards they had some AWESOME fireworks.
That we ABSOLUTELY couldn't see because they were behind all the trees! Whoever's bright idea that was.....SO SO excited for Spring Break/Real World Long Island Part 2: The Duel this weekend! Can't wait!
As you can tell, I'm thrilling today. Cranky up the wazzoo and I don't feel ril good. Here's hoping the afternoon picks up and despite my wah wah-ness I WON'T fall asleep at my desk!