I've never been very outspoken towards Miss Angie Jolie - don't love her, don't hate her. She kicked ass in Mr. and Mrs. Smith, gives good hair, and adopts lots of kids. I mean really, what is there to say? But last night at the premiere of Braddy's new movie "Inglorious Bastahds" or however he's spelling it, she looked something FIIIIIIIIIERCE!
The look on her face leaves something to be desired but the dress? Love. Pockets? Love. Shoes? Love. Work it biatch. While I still prefer Brad and Jen together (I like my Jolie with a side of Billy Bob Thorton crazy) they did look great together on the red carpet.
Seriously Brad. The old man goatee? Gotsta go.
It came to my attention this morning that today is the 10th anniversary of when a tornado struck downtown Salt Lake City.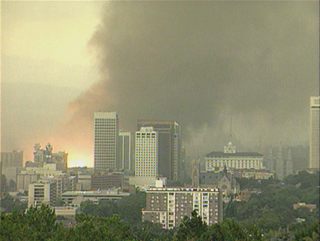 Story time!!!
First of all, I cannot beleive it has been 10 years. 10 years and yet...I haven't aged a day. It's funny, even thought 10 years has passed that day is still fresh in my memory. It was the summer before collge and my friends Mike, Nick and I were planning on going to Provo to some like, Raging Waters waterpark type shit or something. The tornado happened at like, 12:40 or something and I distinctly remember that we stopped in downtown for lunch at 12:15 and left at like, 12:35. As it was though, I never actually saw the tornado happening and only heard about it when we got to Provo. We ended up stopping to visit some of their friends at BYU before the waterpark and Mike and Nick got distracted by them and the tornado so we never ended up going to the waterpark. Bathing suit. Towel over my shoulder. Ready to go. And we never went. Talk about disappointment! Stupid tornado, stupid BYU, stupid Mike and Nick. Okay Salt Lakers - where were you when the tornado hit?!!
Ten Years......Ai Dios Mio....
Last night was a Dodgeball Open Play and we all had a blast. It's no secret I'm pretty awful at the game itself but every now and then I have a rock star moment. Picture this: I'm the last person on the court from my team. The other team has three people and three balls. They throw all of them at me at once. I jump up, grab one ball, and the other two through my legs as I'm twisting in the air. I imagine it looked something like this:



As far as the after party is concerned...well...all I have to say is "lesbians on poles."
Yeah.......about that.....