This Monday was group pictures at Dodgeball and my friend Kevin was the photographer. For the record, this is what happens when you're leaning on a bench, and someone walks by and says "Brian! Pose!"
For those who scoff at my visible panty line, all I have to say is....at least I'm wearing underwear. So there. Then Kevin tried to have my blow a bubble for a fun, kooky shot.
It's really hard to blow a bubble on cue, but Helllooooo chin dimple! I look a little tar tar here, a little gaunt/Ethiopian. Hey, I'm not going to complain, the skinnier the better. And no mother, I am not aneorexic. I had Chipotle for dinner last night and then egg whites w/ turkey and a cherry vanillia yogurt today for breakfast. And I didn't throw any of it up. So I'm eating, I don't want to hear it.
We finally succeeded in obtaining the 'bubble' shot.
Kinda. Kevin is actually a really talented photographer and is the go-to guy when it comes to Scissor Sisters gigs or appearances. And yes, I WILL be taking advantage of his connection to them next time they're in town, thank you for asking!
Had drinks last night and then for whatever reason thought it was a good idea to go to a midnight screening of "Paranormal Activity" with More-O.
My reasons for seeing it are threefold:
1. It was free.
2. Everyone was talking about the movie.
3. It was free.
For those who don't know, basically this movie is about a couple who is haunted by a demon.
A word to the wise -
DON'T SEE THIS MOVIE. There is some freaky ass shit in this movie and I am, for once, happy that I don't live in a house. I'll take my tiny apartment any day if it means I'm going to get harassed by a friggin demon.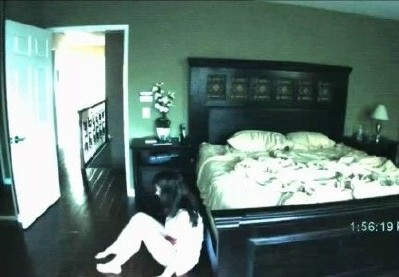 Oh and if you see this girl on the street -
RUN AWAY!! :::shudder::: I don't know that I'll ever be able to sleep through the night again. I don't know which was worse - my decision to see this movie or my decision to see this movie at midnight on a work night (I done be TIRED yo!). But alas, my decision was fueled by my favorite word.
Fun weekend ahead filled with shopping, birthday parties, and paintball!
I'm a scurred!!