Well obviously I've got thoughts on the Grammy's. I mean, hello - have you met me? But before I get to that I have some bad news to report: Kristen Bell is engaged.
To mother-effing DAX SHEPARD! I'm sorry but Dax is simply not good enough for my girlfriend Kristen. He's not cute enough, he's not smart enough, and Doggonnit, I don't care if people like him! He doesn't deserve someone as amazing as her. Even if she had made some awful red carpet mistakes lately and "When In Rome" looks horrible....but let's not focus on that. I mean, no one's perfect. Oh Kristen, marry me instead!
As far as the Grammy's are concerned.....
Oh Britney.

No. Just.....no.
Taylor Swift, no. Just....no! And album of the year?! No!!!!! I'm afraid my like for Taylor Swift was very short lived. That girl needs an auto tune box installed directly to her throat.
Lea Michele?
Yes, yes, yes, and MORE yes!!! Homegirl looked AMAZEBALLS.
Dear Michael Jackson's kids: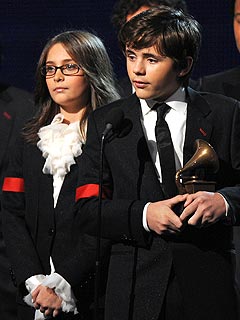 You. Are. Ca-REEPY!!! I mean, obviously it's expected since we know who their father was, but eeeeyikes! And was it just me or did Paris say "our father wanted to be here this year but he can't." Uh....he can't make it to the Grammy's because he DIED?! Duh! And where was Blanket? Why do the older kids get all the fun?
So....Beyonce.
Beyonce, Beyonce, Beyonce. Homegirl is fierce. Homegirl can do whatever she wants. But homegirl went and covered Alanis last night.
She sang "You Oughta Know" and I've recieved many a text message 'wanting to know' what I thought. I mean, look. Beyonce ain't no Alanis. And Alanis ain't no Beyonce. And despite the fact that Bey flubbed a few words and did a really weird cutting of the lyrics, I thought she worked it out. Would it have been better if Alanis and Bey did the song together? You bet your ass it would have been! But I'll take what I can get.
Lady Gaga, my little monster...


I thought she and Elton were pretty phenom. Vocally she was spot on, the arrangement of "Speechless" and "Your Song" mixed well and Elton really was right - how wonderful life is now that Gaga's in our world. The girl doesn't give a damn about what anyone thinks and I'm so impressed with every performance I see of hers. She gives you something to think about and a performance to look forward to!!
And then there was Pink.
Page Six and I were talking last night about how it was a great performance but it was esentially just a copy of what she does in her live show. But then I got to thinking more about it. Sure, it's her stage show but Pink was doing it more to show something that hasn't been seen on the Grammy's more than she was doing a "lazy" performance. The acrobatics, the outfit, the water, the spinning, I mean, the girl's absolutely amazing. Combine that with the fact that "Glitter in the Air" is one of the best, and saddest songs off her album, and you've got my favorite performance of the night. I'm crushing hard on Pink right now.
After spending a full day with More-O, Dan, and Jocean watching Lost, the Grammy's were a lovely end to my night and a great way to end a great weekend!